When you want the latest news and information, you are no longer limited to what you can find on TV at the moment. You don't even have to be at home in front of your computer, or in a Wi-Fi hotspot looking at your laptop. These days, it's possible to find out what is happening right now. Whether you are interested in the latest business developments, or whether you want sports scores (or even to watch the game), it is possible on your smart phone.
Technology has made it possible to carry information with us wherever we go. You can stay connected and up to date, no matter where you are. Your Android smart phone is a great communications tool that allows you to reach out to others, as well as keep up with all of the latest developments. If you always want to know what's happening, here are 40 top Android apps for newshounds:
General News Media Outlets
You can get what you need from news media outlets. From online news sources to major broadcast networks, these Android apps provide you with headlines, video and other valuable bits of information from general sources of news.
Politics & Business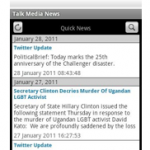 Some Android apps are aimed specifically at providing news in the areas of politics and business. If you want to find out what is happening business and politics, you can use these applications to keep up to date.
Science & Technology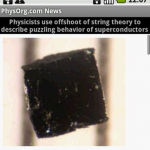 You expect science sources and technology companies to provide you with the latest news — and to do it with the help of Android apps. Learn more about the latest gadgets and breakthroughs. Get the latest news from the worlds of medicine, physics, space and more.
Sports
Do you love sports? If so, you can keep up with all the latest news about players, teams, strikes and negotiations. Find sports scores and get highlights. These apps can ensure that you always know what is happening in the world of sports.
Arts & Entertainment News
Keep up with the latest arts news, as well as the latest headlines from the world of entertainment. Latest events and showings, as well as fresh celebrity gossip.